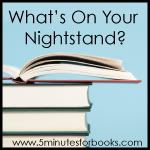 The team at 5 Minutes for Books has created a great new monthly carnival, "What's on Your Nightstand?"  I thought it would be fun to play along since I usually have several books beside the bed waiting to be read.  In fact, as of this morning, there are 13 books on my nightstand (although 6 of those have already been read or are Matt's)!  So, here is what I'm reading (sorry, I was too lazy to take a picture)…
The Birth House by Ami McKay – currently reading this one; it was lent to me by my aunt who thought I would enjoy it as it deals with a fictional case of tradition vs. science in the realm of childbirth during the World War I era.
Chocolate Beach by Julie Carobini – I saw this one on several blogs a few months ago and thought it sounded good; I requested it from PaperBackSwap, and, voila, it's on my nightstand.
The Center of Everything by Laura Moriarty – I came across this book on Amazon when I was looking at Listmania lists that included Peace Like a River by Leif Enger.
The River Why by David James Duncan – I found this at the same time as The Center of Everything.
Neverwhere by Neil Gaiman – it isn't often that I take a foray into the fantasy genre, but I do enjoy books of this nature on occasion; Matt read this one and thought I might like it.
Velvet Elvis by Rob Bell – basically we wanted to see what all the fuss is about; Matt read it, and now it's my turn.
My Beautiful Idol by Pete Gall – I'm not generally a non-fiction girl, but Matt said this was a really good book; I'm reading it on his recommendation.
I'll also mention here that I just finished my first book by Jodi Picoult, My Sister's Keeper.  I know several of you read and love her books, but for some reason I always thought they were your general chick-lit and, therefore, wasn't very interested in checking one out.  Let me take a moment to say I'm sorry; I was wrong.  
This is a very good book about a family dealing with a terminally ill child; it portrays the struggles of the family, the bond of sisters, and the potential outcome of a family where the parents focus so much energy on one child that there is little left for anything (or anyone) else.  Ms. Picoult's writing was engaging, and I found myself being swept into the story to the point that at times I thought I might cry right along with the characters (this is not something that happens to me often when I'm reading).  It also made me think about my own children and how our family might look in the face of a similar situation.  I will definitely have more of her work on my reading list in the future.
So, there you have it; that is what's on my nightstand.  You can always visit the Bookshelf in my sidebar to see a list of books that I'm currently reading, have recently finished, or have on hand to read in the near future; I try to keep it updated as much as possible.  If you would like to participate in this book carnival or see what other bloggers are reading check out this month's "What's on Your Nightstand?".
Noise from the peanut gallery