Thoughtfully penned on November 25th, 2008 and generally concerning
Reading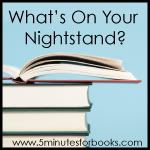 It's been slow reading this month. I've been making my way through the never-ending book, otherwise known as The River Why, and haven't really accomplished much else. It's also been a busy month on PaperBackSwap which means I've added a few books to the stack.
Currently on my nightstand…
From previous months:
Velvet Elvis
The Pact
Keeping Faith
Stardust
The Englisher
Snow Flower and the Secret Fan
New additions:
The Whistling Season by Ivan Doig – I came across this book in an Amazon search and thought it sounded interesting. We'll see if it is.
The Second Summer of the Sisterhood by Ann Brashares – I read The Sisterhood of the Traveling Pants back in the Spring and enjoyed it for a quick, fun read. My BFF and I are completing the series now, and then we're going to watch the movies together (assuming we can find a time/way to do so without the kids underfoot).
A Thread of Grace by Mary Doria Russell – another Amazon search find. The book is set in Italy in 1943, toward the end of the war, and tells the story of Jewish refugees searching for safety. I enjoy reading about this era (both historical writing and fiction) and am looking forward to this book.
1776 by David McCullough – This is a book that I've wanted to read for quite some time and am finally putting in my stack.
During the last month I've finished two books, The River Why and Nights in Rodanthe.
I really liked The River Why; it wasn't an easy read but definitely worth it. If you know anything about fishing you would probably understand it better than I did, but the story is a back to earth type story with a spiritual journey theme. I found it pretty interesting.
I read Nights in Rodanthe because my best friend and I were planning to go see the movie. It was a basic Nicholas Sparks book – sweet, sappy, easy to read.
That's what's on my nightstand; check out What's on Your Nightstand? at 5 Minutes for Books to see what other bloggers are reading. Happy Reading!
Noise from the peanut gallery