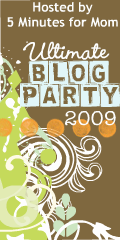 It's the first day of Spring, my thirtieth birthday, and the beginning of UBP '09. Definitely time to party!
Hi, I'm Jana. Welcome to my little corner of the world. Come in, help yourself to a piece of strawberry cake, and stick around to chat for a while.
For those of you who are new to these parts, let me tell you a bit about myself…
I am wife to the love of my life, Matt. God has entrusted us with two precious lives in the form of our 2.5 year old, Little, and our 11 month old, Boo; and I have had the privilege of being at home with them since Little's birth. I lead a life filled with blessings – a great family, great friends, and, most of all, a great God.
I started blogging a little over two years ago and chose to name my place Sidetrack'd because, well, because I'm very easily distracted. You will find me writing on a wide variety of topics – funny anecdotes from everyday life, my faith, books, baseball, cooking, and anything else that strikes my fancy. I write because I enjoy it and because it is a much better way to record my children's milestones than trying to remember to write in their baby books.
Feel free to hang out for a while, look around, and if you like what you see, subscribe to my RSS feed.
Thanks for stopping by today; I hope to "see" you again soon!
Oh yeah, if you're interested, here's the recipe for the yummy strawberry cake we're enjoying for my birthday I'll post the recipe the first of next week.
Thanks for 5 Minutes for Mom for hosting another great party! Be sure you check out all of the prizes they are giving away, too. If I were to be so fortunate as to win a prize, my three top picks would be:
Prize 7 – Ergo Baby Carrier offered by A Giveaway Addicted Mommy
Prize 3 – $25 Gift Certificate for Happy Panda
Prize 106 – Melissa & Doug Dress Up Set offered by Good for the Kids
And if those are already taken, I would love any of the following:
1, 4, 8, 16, 18, 19, 21, 26, 28, 37, 38, 43, 44, 45, 50, 52, 62, 70, 77, 78, 79, 83, 88, 91, 93, 95, 99, 105, 118, 122, 123, 125, or any of the other prizes related to babies and toddlers/preschoolers.
Noise from the peanut gallery