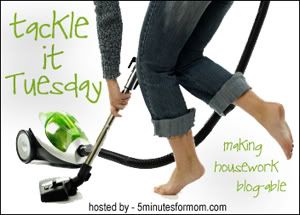 I confess, I hate cleaning our shower.  I don't just dislike it, I hate it.  But, you say, hate is a very strong word.  Yes, and I hate it.
Let's just say that it had been a while since any serious cleaning had taken place in the shower in our master bathroom.  Don't misunderstand, the bathroom itself is cleaned very regularly, just not the shower.
When I saw at 5 Minutes for Mom that CLR was offering the opportunity to try their kitchen and bathroom cleaner as part of Tackle it Tuesday I jumped at the chance and hoped that this would provide the motivation I needed to get the job done.  And it did.
I had high hopes for the CLR cleaner.  I tried not to expect too much, because, really, anything short of a product that would redo grout – or better yet, redo tile – wouldn't live up to my expectations.  I did, however, expect the product to cut the soap scum, clean off the mineral deposits, and, hopefully, make a dent in the mildew that I'd let build up on the grout and around the bottles (shampoo, face cleaner, etc) on the shower floor.
I wasn't disappointed.  I followed the directions – spray on, leave to work for a few minutes, wipe down, let sit for 2-3 minutes, rinse with clear water – and the soap scum and mineral deposits wiped off and washed away with very little effort.  The mildew on the tile itself cleaned off fairly easily with the scrubber side of the sponge.  The mildew in the grout was a tougher kill (as I expected), but this cleaner cleared away some of the mildew stains completely and lightened or partially cleared most of the others.  I also might have been able to get more of the mildew stains taken care of if I had put more elbow grease into it; I will probably work on them some more sometime in the coming weeks.
Overall I was pleased with the results.  I would recommend using the product in a well ventilated area (as directed) due to the fumes; I opened the bathroom window and this seemed to provide reasonable ventilation.  (I generally use non-toxic cleaners (with the exception of bleach cleaners on toilets and in the tub), so I found the chemical smell to be quite strong and offensive.)  I don't think I would use the CLR Bathroom & Kitchen Cleaner as an all-purpose cleaner for these spaces, but I will definitely use it again in the shower.
Most importantly, my shower is clean and I feel a sense of accomplishment because I finally made myself tackle it.  If you find a product that will do my tile and grout work for me, please let me know.
Happy Tackling!